South African made weapons
Here is a comprehensive guide on South African made weapons and military hardware.
---
South African Flag
During the apartheid era some years back, when South Africa was under a United Nation (UN) sanctions, the then government led by President Frederik Willem de Klerk was forced to adopt measures to keep his military relevant in the modern world. Under a severe arms embargo placed on South Africa, the nation had to look inwards. It then set-up a modest military Research and Development (R&D) corporation Armscorp which morphed into the present day Denel Systems. Major defence equipment developing corporation.
South Africans are behind many global innovations, including the world's first heart transplant, the Kreepy Krauley, Pratley Putty, and Dolosse.
The country has also produced many internationally-renowned technology entrepreneurs, like Elon Musk, Mark Shuttleworth, and Roelof Botha.
This continued innovation in South Africa was shown in the 2015 Innovation Prize for Africa award nominations. That year, the African Innovation Foundation received 925 applications from 41 countries for its IPA awards. Four of the ten IPA 2015 finalists were South African.
Over the years the South African National Defence Force (SANDF) equipment inventory has been given a needed boost. The public-private partnership policy that the government is following has bolstered the SANDF combat-readiness and is since yielding results.
Although Denel appears to be homegrown it has a checkered history of bribery, back-channel acquisition and theft of technology.
Denel has acquired
A-Lister position in the prestigious clique of advanced combat systems producing countries rivalling great nations such as U.S.A, Germany, Russia, France, U.K, Isreal just to mention a few.
Developed out of the white apartheid regime desire to keep the South African Blacks under military repression, the South African arms industry is considered one of the most advanced in the non-Western world today, on par with fellow IBSA partners, India and Brazil.
The wide-ranging locally-made South African weapons and combat systems include transport and attack helicopter, armoured personnel carriers, military trucks, internal security vehicles, assault rifles and handguns.
Although weapons production has slowed considerably since the official end of apartheid, Pieter Wezeman, Senior Researcher, Arms Transfers Program at the Stockholm International Peace Research Institute, had this to say

The South African arms industry has advanced in a few niche areas such as certain light armored vehicles and anti-tank missiles. The country's combat systems and other military equipment are in high demand in many countries throughout the world, from the United States to China, and from Sweden to Zambia.
 List of South African made Guns
Denel Y3 AGL
Denel PAW-20 Neopup
Denel NTW-20
Vektor CR-21
Vektor SPS (Series)
Vektor Z-88
Vektor SS-77
Rifle R4


List of South African made guns (
Assault rifles)
R1
R2
R3
R4
R5
R6
LM4
LM5
LM6
H5
List of South African made 
Pistols/revolvers
Z88
SP1
SP1 General's
SP1 Sporting
SP2
Mamba [Varan PMX-80]
Aserma ADP
TZ-99 [CX 635 ASP]
Hawk
Republic
Lynx
List of South African made 
Support weapons
NTW-20
L4A1 BREN
MG-4/L3
MGL/Y2
Vickers L1
SS-77
Milkor stopper
List of South African made 

Submachine guns
BXP
Kommando LDP
Sanna 77
BX-9
List of South African made Shotguns
MAG-7
Neostead
Striker
Striker (civilian)
Protecta
Protecta Bulldog
Musler
Denel's NTW-20 anti-materiel rifle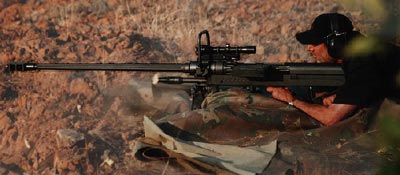 The NTW-20 is an anti-material rifle, used to engage high-value targets such as radar stations, petrol tankers, static helicopters and planes, and command and control stations.
It serves as an accurate long-range portable rifle which can be carried by a sniper and can also be mounted on light vehicles.
While it is not seen as a traditional sniper rifle, a version of this gun (Denel NTW-14.5) is credited with a 2,125m kill by a South African Special Forces sniper.
---
Many of South Africa's best innovations happened in the military. The country's achievements include building one of the world's best attack helicopters and becoming a nuclear state.
Ivor Ichikowitz, founder and executive chairman of Paramount Group, said South Africa is producing top-class military equipment and technologies.
He further said the country can hold its own against the best the world has to offer, and that it is an industry which shows what South Africa can do.
---
Here are some of the military weapons built in South Africa.
Rooivalk attack helicopter
South African made Rooivalk
The
Denel Rooivalk
is an attack helicopter which was developed by the Atlas Aircraft Corporation, a predecessor of Denel Aviation, and manufactured by Denel.
The Rooivalk sports two staggered cockpits and two turbine engines, and the main and rotor blades can withstand hits from small arms fire.
The Rooivalk's attack helicopter platform can deliver a variety of hard-hitting projectiles against targets several kilometres away.
---
South African made armoured vehicles
Olifant Main Battle Tank 
The Olifant mk1B main battle tank was developed and produced by the Olifant Manufacturing Company, OMC Engineering Pty Ltd, based in South Africa. Development of the Olifant started in 1976 and first entered service with the South African Armoured Corps in the late 1970s.
OMC Engineering later became Reumech OMC, then Vickers OMC and, in September 2002 was renamed Alvis OMC, following the acquisition of Vickers Defence by Alvis plc. In September 2004, Alvis OMC became part of BAE Systems Land Systems.
RATEL IFV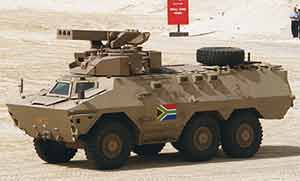 The Ratel IFV was built to counter Soviet armour during the South African border war. It destroyed T-54/55 tanks used by Cuba forces.
Mbombe Infantry Fighting VehiVeh  (IFV)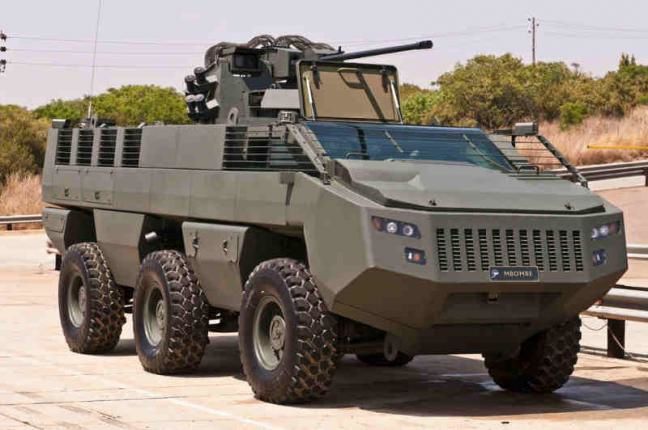 The Mbombe is an agile infantry fighting vehicle offering protection, mobility, and fire-power. It is designed to provide protection against landmines, IEDs, side blasts, and RPG attacks.
This is achieved, in part, by new technology that provides mine protection without resorting to the traditional V-shape design.
The mine protected flat bottom hull reduces Mbombe's silhouette to under 2.4 meters, which delivers benefits in combat and against IED attacks. The vehicle comes as standard with a high level of protection against kinetic energy and blast attacks.
G5 towed howitzer
The G5 towed howitzer is built by Denel and is a proven, reliable, and accurate 155mm long-range gun with an auxiliary power unit.
Denel said continuous feedback to design engineers from military operations and intensive testing under all possible conditions has resulted in a gun that is "not only immensely practical but also extremely reliable and user-friendly".
G6 Rhino self-propelled gun-howitzer
The G6 is a 155mm self-propelled gun-howitzer developed by Denel. The G6 is a battle proven, highly mobile, fully protected, wheeled, a self-propelled gun with a firing range of more than 50km.
Denel states that while the G6 continues to outgun competitive artillery systems, it has developed the new G6-52 which has advances in all the capabilities critical to effective artillery.
---
South African made aircraft
Seeker 400 UAV
The Seeker 400 UAS is a self-contained system which has a large payload carrying capability, high-definition video imagery, real-time data acquisition, transmission to remote receivers, and autonomous take-off and landing capabilities.
The Seeker 400 operates at direct line-of-sight ranges of up to 250 km from the base station and provides real-time day and night reconnaissance, target location and designation, and artillery fire support.
AHRLAC
The Advanced High-Performance Reconnaissance Light Aircraft (AHRLAC) is a South African-designed and developed aircraft, destined for a role in a wide range of civilian and military tasks.
There's even a special review of the
AHRLAC
right here on Military Africa.
Developed by Paramount Group, the AHRLAC hopes to challenge Western manufacturers with its multi-role applications, low cost, reduced requirement for maintenance support, and extensive operational capabilities.
Davit system by the CSIR
To counter-piracy, the CSIR has developed a Davit system that deploys small boats from navy vessels in motion which enables the South African Navy to act quickly against pirates.
The Davit System is removable and can be loaded onto any ship's deck with a suitable container footprint. It has a wave-compensating hydraulic system mounted on a load vector compensating base, which ensures that forces are evenly distributed into the deck.
The system also carries stored energy which means the reaction vessels can be deployed even if the ship cannot provide the required power.
---
Other decommissioned South African made weapons
During the seventies and eighties, South Africa built many world-class military military systems, including the Cheetah fighter and nuclear devices.
Cheetah fighter jet
The Atlas Cheetah is a South African developed and manufactured fighter jet, which was essentially an upgrade of the Dassault Mirage III.
Three different Cheetah fighter jets were created – 16 dual-seat Cheetah D, 16 single-seat Cheetah E, and 38 single-seat Cheetah C.
The Cheetah Es were retired in 1992, and the Cheetah Cs and Cheetah Ds in April 2008 – replaced by the Saab Gripen.
Nuclear Weapon 
During the seventies South Africa was one of only a few nations which developed and built nuclear devices.
According to an article by Marcus Duvenhage, South Africa had six nuclear devices and was busy constructing a seventh before it abandoned its nuclear program.
While South Africa denied being a nuclear state during the apartheid years, former president FW de Klerk confirmed in March 1993 that South Africa had "embarked on the development of a limited nuclear deterrent".
South African made Missiles
Umkhonto Surface to Air Missile
The Umkhonto (Zulu: spear) is a South African family of modern short to medium range, all-weather capable vertical launch (VLS) surface-to-air missiles (SAM) manufactured by South Africa's Denel Dynamics (formerly known as Kentron).
The missile and associated subsystems are supplied as a missile group for easy integration into naval combat suites or ground-based air defence systems.
MOKOPA Air-to-Ground Missile
The Mokopa is a South African air-to-ground missile, designed primarily for use as an Anti-Tank Guided Missile (ATGM). It is currently in its final stages of development, and is being integrated onto the South African Air Force's Rooivalk attack helicopters.
The missile is produced by Denel Dynamics, formerly Kentron. The current version utilises Semi-Active Laser (SAL) guidance, requiring the target to be illuminated by a laser designator either on the launch platform or elsewhere; though there are alternative guidance packages available including a millimetre-wave radar (MMW) seeker and a two-colour imaging infrared (IIR) seeker.
A-DARTER Air to Air MISSILE
The V3E A-Darter (Agile Darter) is a modern short-range infrared homing ("heat seeking") air-to-air missile, featuring countermeasures resistance with a 180-degree look angle and 120-degrees per second track rate, under development by South Africa's Denel Dynamics (formerly Kentron) and Brazil's Mectron, Avibras and Opto Eletrônica. It will equip South African Air Force's Saab JAS 39 Gripen C/D and BAe Hawk 120; Brazilian Air Force's A-1M AMX, Northrop F-5BR and Gripen E/F. It is expected to be in production before the end of 2015
INGWE Anti-tank MISSILE
The ZT3 and its launch system were developed under the codename "Project Raleigh" in the 1980s as a "long-range indigenous antitank guided missile".
The missile was developed in order to provide the South African Army's Mechanized infantry vehicles, such as the Ratel IFV, with anti-tank capabilities and to supplement the ageing MILAN missile system that was in service at the time.
Pre-production models, mounted in a triple launcher on top of a Ratel IFV, saw service in Operation Moduler during the South African Border War with good effect
---
South African made robot
Parabot
Parabot was unveiled at the African Aerospace and Defence Expo on September 16, 2014, at the Waterkloof Air Force Base in Pretoria, South Africa. The giant was designed by Paramount Group to raise awareness about rhino poachers.
According to the makers (Paramount group), Parabot stands as a symbol representing the resistance and resilience of the African people to fight back against the killing of our wildlife and heritage. It also stands as a message to the poachers that Africa would never give up on the fight.